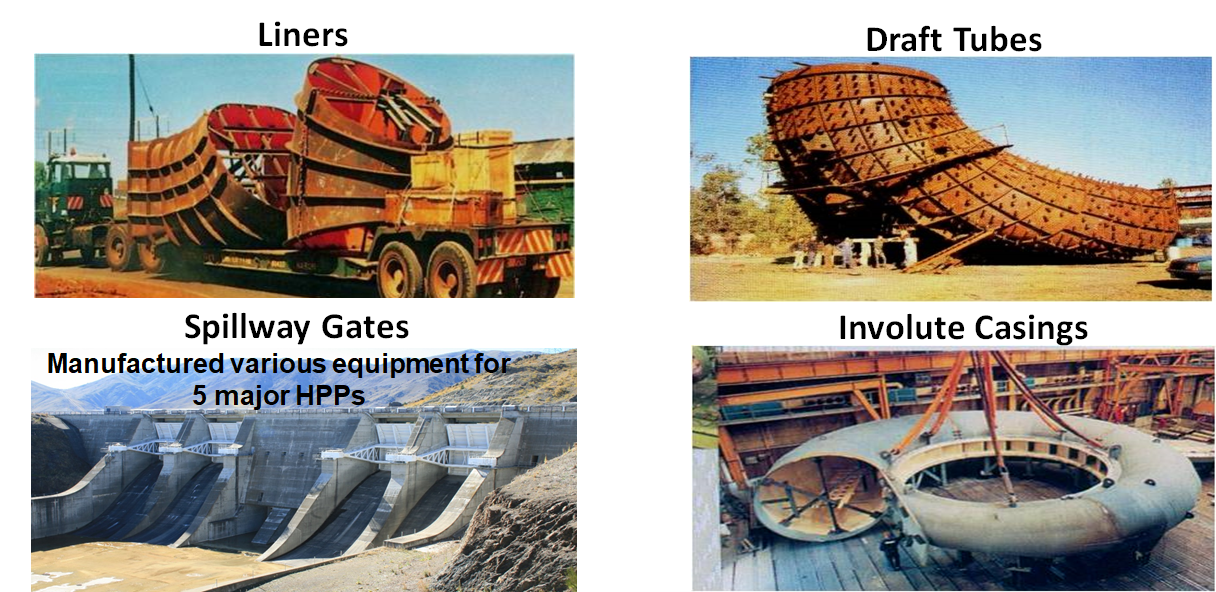 HMC is fully equipped to cater to the requirements in the energy sector. In association with the world renowned turbine manufacturers, expertise has been developed in the field of designing, manufacturing, erection/installation and commissioning of mini/small Hydel Power plants up to 25MW capacity of various types such as Francis, Pelton, Cross Flow and Kaplan/Bulb type. HMC offers services at the pre-feasibility stage and suggests the type and the module of turbines depending upon the water head, discharge and other site conditions.
FRANCIS TURBINES
Francis turbines are made up of, a spiral case bringing in water, the distributor (adjustable wicket gates guiding the water on the runner and controlling flow), a fixed blade runner, a discharge elbow, and a draft tube leading into the tailrace. These turbines are used for medium heads, from 15M to 200 M.
PELTON TURBINES
Pelton or Impulse turbines are used to harness heads from over 100 M up to 1200M. These machines can handle wide flow variations while retaining excellent mechanical performance and high efficiency. Flow control is achieved by a spear moving inside the nozzle. The jet of water strikes buckets on the turbine wheel and transfers its energy to the wheel. The flow discharged from the bucket, falls the tailrace.
CROSSFLOW TURBINES
Crossflow turbines are suitable for use between 2M and 100M heads and for a wide range of flow conditions. In this type of turbines the flow from the penstock enters the turbine through a rectangular intake fitted with single or double guide vanes depending on the size of the unit and flow conditions.
KAPLAN & BULB TURBINES
Kaplan is propeller type turbine and used for heads below 20M. The main feature of Kaplan turbine is to offer very good performance when both head and discharge vary widely. The water is supplied to the runner by a concrete semi-spiral case or a complete metal spiral case depending on the head. Bulb-units are used for low heads (3 to 20M). In this type of turbine both turbine and generator are enclosed in a bulb shaped water tight enclosure.
ALLIED HYDRAULIC EQUIPMENT
Besides main equipment, HMC also designs manufactures and supplies the following allied hydraulic equipment/ structure:
Bulk Heads
Penstock (Exposed, Embedded & Burried)
Draft Tubes & Draft Tube Liners
Gates (Sluice, Radial, Sliding & Fixed Wheel)
Stop logs
Trash Racks
Sill Cleaning Machine