STAAD PRO V8i SS6 (3 DAYS)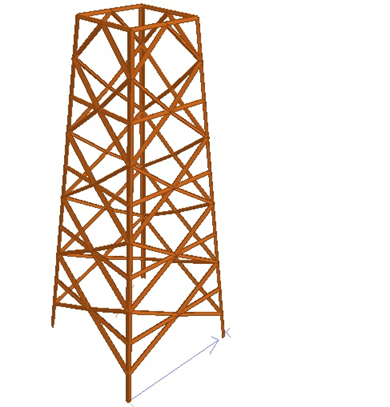 TRAINING OBJECTIVES
The Design Center of Heavy Mechanical Complex, is now offering the best STAAD PRO V8i SS6 training course in Pakistan from experienced Mechanical Engineers, with the view to produce skilled workforce to meet the present and future demand of Industry.
This course aims to help product designers and engineers in developing a product design virtually. STAAD PRO V8i SS6 is equipped with all essential features of structural design. It deals with design and analysis of both steel and concrete structures. During the training, the modelling of steel structures will be discussed.
PRE-REQUISITE
Engineering Students
Design Engineers
Mechanical Engineers
Civil Engineers
TRAINING STRUCTURE
Number of classes per week 03
Duration of each class 02 hrs. 30 mint (Tuesday)
05 hrs. (Thursday)
Total duration 7 hr. 30 minutes
Training Methodology 100 % practical
Medium of Training English and Urdu
Training venue DESIGN CENTER COMPUTER LAB
Fee Rs. 5,000
Mode of payment Cash
Certificate Students will receive certificate,
confirming attendance and training
completion.
For registration please visit training section, Design Center, HMC, Hattar Road, Taxila.
TRAINING CURRICULUM
Understanding STAAD PRO
Configuration
Brief introduction to structure Wizard
Modelling by means of co-ordinates
Addition of beams
Assigning the sectional properties to elements
Node insertion to a pre-defined beam
Intersection and stretching of beams
Definition of plates
Assigning material and thickness to plates
Selection methods
3D view, planar views, partial views
Definition of groups
Definition of non-standard profiles
Definition of support types
Rapid modelling with MIRROR, ROTATE and TRANSLATIONAL REPEAT
Application of loads
Creation of load envelopes
Post processing mode
Shear force diagrams
Moment diagrams
Viewing mode shapes in post-processing mode
Note:
Following to be arrange by participant at home for better learning
A Laptop or Computer
STAAD PRO Software for your Practice
Basic Engineering Knowledge pertaining to Mechanics of Materials
Basic Drawing knowledge
Basic Knowledge of relative Codes and Standards
OUR FACILITIES
Fully equipped Computer lab
Flexible and comfortable furniture
Parking
Secure environment
EXCEPTIONAL PACKAGES
Our training Participant's package includes:
Training material in a folder
Soft copy of training material
Group photograph
Training certificate
Comfortable spacious training venue