PV-ELITE 2020
Pressure Vessel & Heat Exchanger Design & Analysis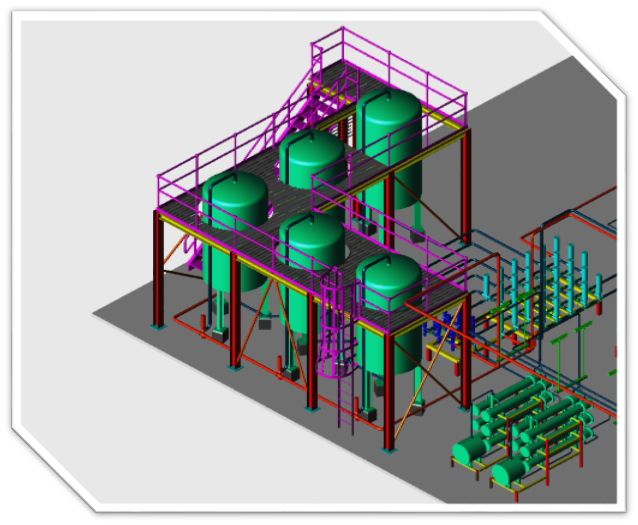 TRAINING OBJECTIVES
The Design Center of Heavy Mechanical Complex is now offering the best PV Elite training course in Pakistan from experienced Engineers, with the view to produce skilled workforce to meet the present and future demand of Industry.
PV Elite includes a wealth of localized content to address most any vessel project. Most obvious is its application of the design rules and criteria of the world's major pressure vessel safety codes. And, detailed material and structural steel specification is simplified through database selection.
PV Elite is a complete solution for the quick and comprehensive design of new pressure vessels for the process industry. This program considers the whole vessel, addressing all of the wall thickness rules ad stress analysis requirements for vertical towers, horizontal vessels and heat exchangers.
PV Elite software provides engineers, designers, estimators, fabricators and inspectors around the world with solutions that match their pressure vessel design requirements. Because this program is easy to learn and use, it is perfect for both full time vessel designers and for those occasional users who require quick start up and confidence in their safety code calculations.
PRE-REQUISITE
Engineering Students (Mechanical)

Design Engineers

Mechanical Engineers
WHY PV ELITE?
All of the major codes and standards are included for Vessel & component Design,
European Norm (EN) 13445 rules for the analysis of unfired pressure vessels.

ASME BPV Code Section VIII, Divisions 1 & 2 for the design and analysis of vessels and heat exchanger components.

British Standards PD 5500 guidelines for the analysis of unfired fusion welded pressure vessels, heat exchanger components and tubesheets.

ASME/ANSI B16.5 and B16.47 standards for pipe flanges and flanged fittings, including equivalent pressure due to applied loads plus pressure ratings for flanges from the DIN standard.

ASME section UHX, PD 5500 and tubular Exchanger Manufacturers Association (TEMA) standards for designing and analyzing tubesheets and expansion joints in heat exchangers.

ASME B31.3 rules for replacing area around fabricated tees.

ASME STS code for stack analysis.

Welding Research Council (WRC) Bulletins 107, 297, 368 and PD 5500 Annex G rules for calculating local stresses in and around vessel attachments (logs and nozzles).
CODECALC COMPONENT ANALYSIS
For occasions where you want to check individual vessel and/or heat exchanger components, PV Elite's CodeCalc component analysis offers a wide variety of utilities that let you evaluate individual components without the trouble of having to build an entire vessel.
VESSEL ANALYSIS
PV Elite performs all the calculations necessary for the stress analysis of vertical columns, horizontal vessels and heat exchangers
• Rigorous Structural Load Sets




• Design Evaluate and Re-rate Modes




• Wall Thickness for Pressure




• Wall Thickness for Total Load




• Fitness for Service Assessment
OUR FACILITIES
Fully equipped Computer lab

Flexible and comfortable furniture

Parking

Secure environment
EXCEPTIONAL PACKAGES
Our training Participant's package includes:
Training material in a folder

Soft copy of training material

Group photograph

Training certificate

Comfortable spacious training venue
TRAINING CURRICULUM
Basics of Pressure Vessel
What is Pressure Vessel & its Types?

Different components of a Pressure Vessel

Dish Ends

Nozzles

Flanges & its Faces

Vessel Supports

Code used for Pressure Vessel

ASME Code & its different Sections

Material of Construction (Code References. . . .)

For Pressure Parts

For Non-Pressure Parts etc.
What is PV Elite 2020?
Interface of PV Elite Program

Element Basic Data Area

Element Additional Data

2D model view

3D model view

Orphic Control.

Tool bar

Main menu

Starting the Test Model,

Selection of Design Code

Setting of Units

Sequence of placement of elements

Viewing Element Data

Viewing Elements and Node Numbers

How to Build a Horizontal Vessel

Nozzles

Designating Orientation and Location

Nozzle Types

Adding Nozzles

Input Options

Adding a Hillside Nozzle

Adding Radial and Hillside Nozzles in the Top Head

Nozzle Code Compliance

UG-37 and Appendix 1-10

Adding Nozzle Reinforcement to the Model using UG-37

Adding Nozzle Reinforcement to the Model using Appendix 1-10

Large Nozzles in Cylindrical Shells

Using UG-45 for Large Nozzles

Heads

Hemispherical Heads

Elliptical Heads

Tori-spherical Heads

Flat Heads

Designing for Vacuum

Cone to Shell Junctions

Inserting Components

Understanding Joint Efficiency

Joint Efficiency and Welds using UW-12

Radiography and Weld Categories

Modifying Joint Efficiency

Setting Wind Loads

Vessel Supports

Vessel Supports, Forces on Vessel Skirts

Designing and Analyzing a Skirt

Viewing a Plot of the Base Ring and Analyzing Further

Vessel Saddle Supports

Saddle Design and Analysis

Vessel Leg Supports

Designing and Analyzing Vessel Leg Supports

Lug Supports on Vessels

Designing and Analyzing Lugs on Vessels

Running the Analysis

Viewing Internal Pressure Calculations
Note:
Following to be arranged by participant at home for better learning
A Laptop or Computer

PV Elite Software for your Practice

Basic mathematics and Engineering Knowledge

Basic Drawing knowledge
TRAINING STRUCTURE
Number of Classes 03

Duration of each class 3 hr.
(Monday, Wednesday & Thursday)
Total duration 18 Hrs.
Training Methodology 100 % practical

Medium of Training English and Urdu

Training venue DESIGN CENTER COMPUTER LAB

Fee Rs. 10,000

Mode of payment Cash

Certificate Students will receive certificate,
Confirming attendance and training
Completion.
TRAINING SECTION
DESIGN DEPARTMENT
HMC HATTAR ROAD TAXILA

Telephone: +92-51-9314181, Ext. 644
Fax: +92-51-9314260
E-mail: [email protected]