Power Boilers
The major components of utility boilers generally include the following items but not limited to:-
Super heaters.
Pre-Heaters.
Profile and plate fabricated steel structure. (hot dip and spray galvanized)
Casing and Ducts.
Drums
OUR PRODUCTION SETUP Our main Fabrication Shop in which the power boilers are manufactured, is the biggest Fabrication Shop in the country and occupies 22,000 Sq. M. The biggest bay is 12 metres wide and has cranes ranging from 3 to 50 tons. The special facilities created for the purpose of manufacturing boilers include the following machines which are unique facilities available in the country:
Profile/Section cold circular saw machines (capacity: 1000 mm sectional depth)
Beveling and parallel Flame cutting machines (capacity: 16 metre length)
CNC gas cutting machine.
Push bending machine for bending boiler tubes (capacity: 63.5 mm O.D.)
Twin-head sub-merged Arc welding machine for plate Girder.
Arc Metal spray galvanizing machine.
Airless spray painting machine.
Argon gas welding machines for tubes & headers.
Pipe cutting machine.
TIG/MIG welding machine.
Metascope for inspection.
Pressure testing units for coils.
Pyrometers for stress relieving of high alloy tubes.
AC/DC Are welding rectifiers for headers.
QUALITY CONTROL HMC follows strict international quality control standards and inspection of pressure parts for Utility boilers. This is done by well reputed internationally known third party inspection agencies like Lloyds Register of Shipping, American Bureau of Shipping and TUV. HMC is also qualified by The American National Board of Boiler and Pressure Vessel for authorization and certification of ASME code stamps for pressure piping (PP), Power Boilers (S) and Pressure Vessels covered under stamps U and U2
Industrial Boilers
HMC Boilers are designed and manufactured according to international boiler codes, like ASME, TRD, and JIS etc. Design calculation and drawings are checked and approved by internationally recognized inspection authorities such as Llyods Register of Shipping, ABS etc. HMC manufactures a wide range of boilers in different types. Some of the boilers are designed & produced in collaboration with manufacturers of world repute. Boilers of following capacities are manufactured on different Pressures and temperatures as per customer's requirement
| Type | Capacities | Fuel |
| --- | --- | --- |
| Fire tube (Packaged) | Oil or gas or dual | 0.5 to 25 ton/hour |
| Water tube (Packaged) | Oil or gas or dual | 6 to 40 ton/hour |
| Water tube (Site Assembled) | Oil or gas or bagasse or with any combination | 30 to 200 ton/hour |
Above boilers are designed and manufactured on modern technology. Efficiency of boilers is 85 - 94% depending upon the type of boiler, fuel and accessories.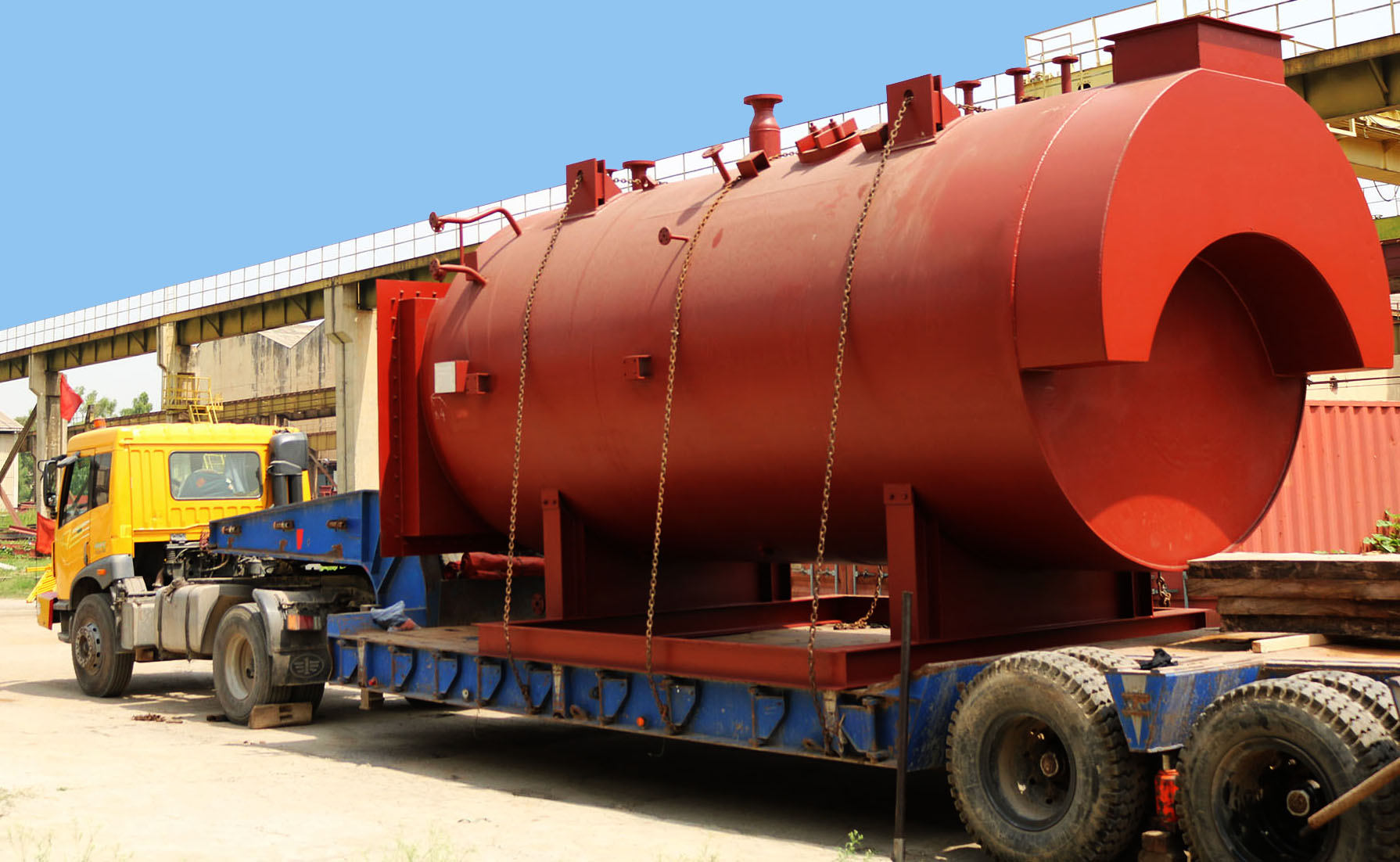 FEATURES PACKAGED UNITS Packaged units are shop - assembled boilers and are of following features: PRESSURISED COMBUSTION
No air leakage - thereby reduction in heat loss of the flue gases and increased efficiency.
Intensified combustion to give better heat rate of furnace.
Compact size.
PACKAGED Assembled as a packaged unit in our workshop.
Made to easily transportable dimensions suiting local condition.
Require minimum erection time
Require minimum space for reaction.
HIGH SAFETY MEASURES
Designed and manufactured strictly according to codes.
DRY SATURATED OR SUPERHEATED STEAM.
Available in models providing saturated or super-heated steam.
Equipped with adequate steam separators guarantee-ing good quality of dry steam
BOILER INSTRUMENTATION & AUTOMATION CONTROL SYSTEM The boiler operation controlled by automatic devices has improved in economy and the number of operators can be reduced to the minimum. The operators need only to watch the instruments and gauges instead of the heavy manual work required of them before. The boiler is equipped with automatic starting and stopping devices. By just pressing the starting button, it will come into operation according to the prescribed procedure. Given below are different features of the instrumentation and automation system: AUTOMATIC CONTROLS
Burner programming control
Combustion control
Water level control
Steam pressure control
Gas pressure regulation
AUTOMATIC PROTECTION SYSTEM
High, and low water level protection with audio-visual alarm.
Flame safe guard system
Steam high pressure cut-off
Gas Low and High pressure protection
Gas leak-off protection
HMC ALSO PROVIDES WATER TREATMENT PLANTS Designed and manufactured as per water analysis available at site and customer's requirements. Offered in simplex or duplex kinds with or without filter and with chemical resin regeneration system. DEAERATORS Steam desecrators of different types and capacities are supplied as per requirement. ERECTION & COMMISSIONING SERVICES A team of experienced erectors, operators and designers provides efficient and prompt services to customers at all times. AFTER-SALES SERVICE Availability of spare parts, technical help and troubleshooting ensure a longer life and efficient performance of the boilers.
WASTE HEAT RECOVERY BOILER HMC designs, manufactures, erects/Installs and commissions Waste Heat Recovery Boilers (W.H.R.B) for chemical & fertilizer plants. After gaining sufficient experience in designing, manufacturing, installation and commissioning of W.H.R.B, HMC has now entered into the field of combined cycle power plant (C.C.P.P).